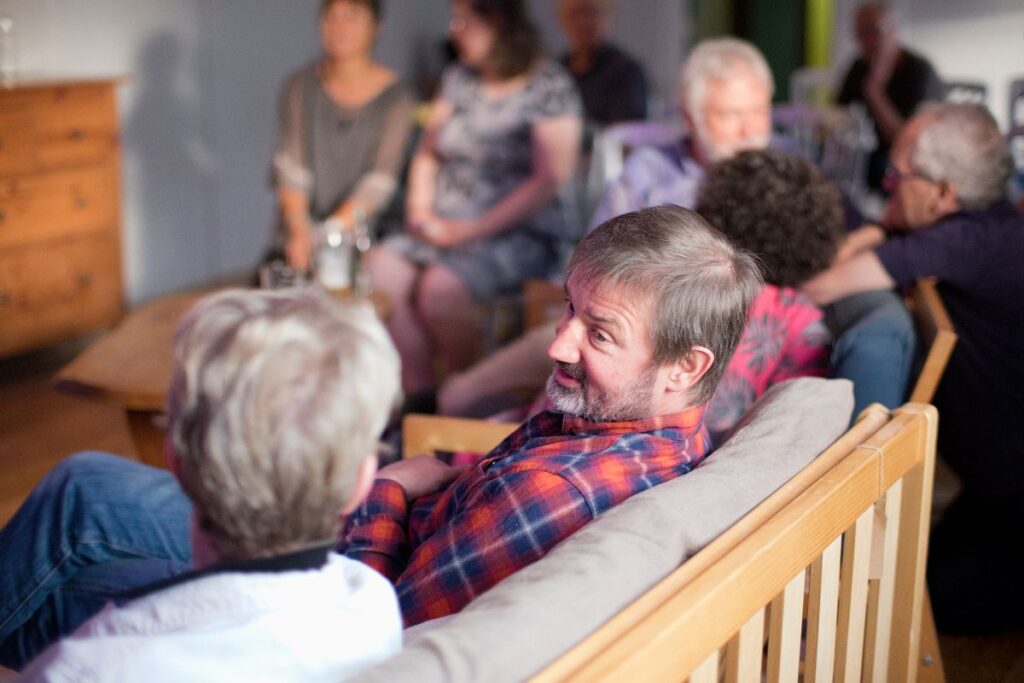 Jane and I met as mature students on a postgraduate creative writing course and quickly discovered a mutual passion for performance/showing off/reading out loud.
We set up Poetic Licence and began running monthly Poetry in the Pub open mic sessions at The Lamb Inn in Sandford to encourage all things wordy. We've had so much fun developing an open and supportive poetry/spoken word family and have had some stonking headliners. We can't wait to be back in the pub…
---
Tell Me Something – the Poetic Licence Podcast
Send us your sounds!
We're putting together a podcast and it's called Tell Me Something. We need your poems but we also need your sounds.
Show us your world. Tell us how you're feeling today or about something you've noticed, send us the sound of your kid eating cornflakes, or the roar of the traffic, send us a recording of your conversation with the dog, or the TV or the wall, or even another human if there's one to hand and we'll weave them together into a soundscape.
Most smartphones have a recording function, so record your poem, sound or snippet and email it to us at TellMeSomethingSounds@gmail.com
Get your submissions to us by Sunday 29th November 2020
Our friends at Crediton Radio have put together some helpful hints for recording and editing audio:
---
On August Bank Holiday Sunday we had our first live performance gig in the sort-of-after times as part of Crediton Arts Centre's Share in the Square and it was a corker.
We had a stonking line up of performers headlined by Robert Garnham and supported by Jackie Juno, Tim King, Shelley Szender, and Peter Cowlam. Our fabulous open-mic'ers were Kaz Macy-Elston, Tia Meraki, Claire Duthie, Ruth Butler and Steve Oram.
We've got plans for the autumn/winter so watch this space and sign up to the newsletter to keep in touch.
Photo credit Glen Padgham
---
---
---